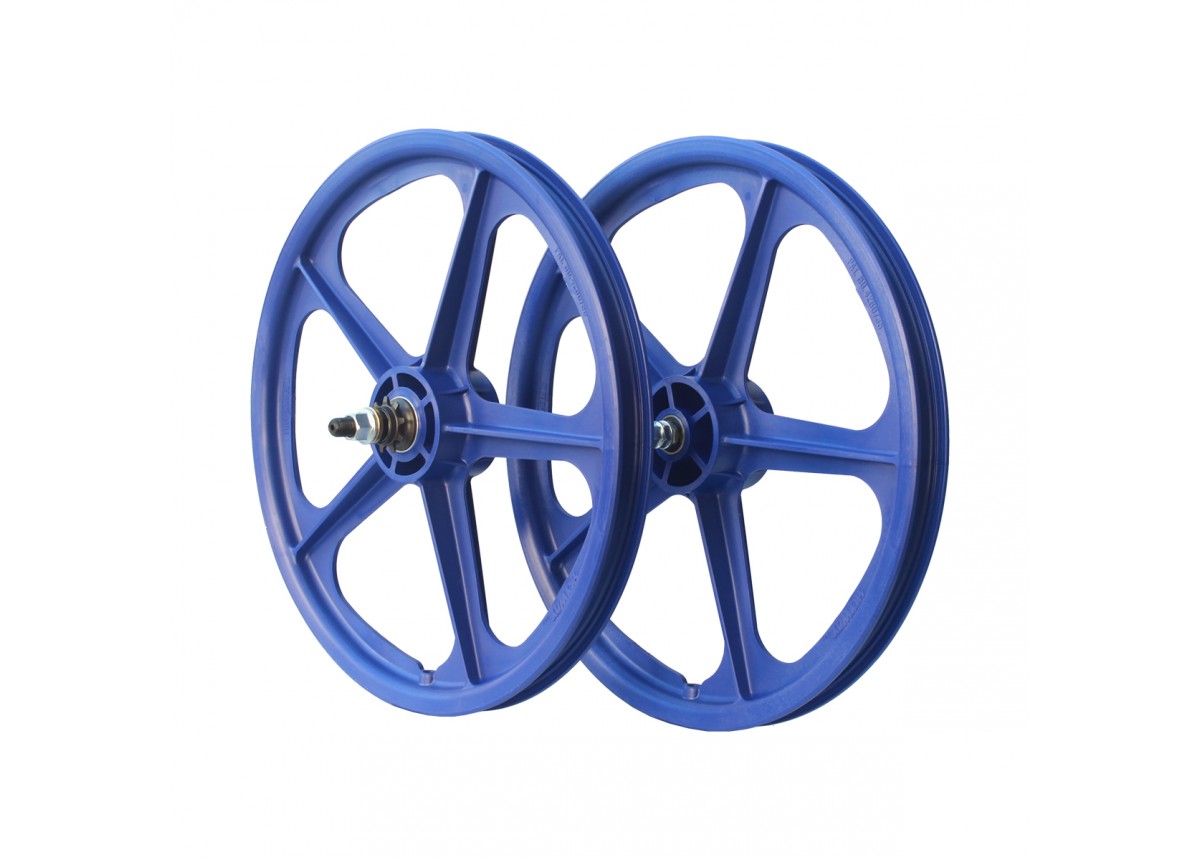 Cycles
Size
20"
Colours
Blue
Additional Information
Brand
Skyway
Pick Up?
Pick Up is Available
Courier Company
Toll Ipec / Australia Post

What payment types are accepted?
PayPal, VISA, Eway and Bank Transfer
How do I know my card details are secure?
We use Secure Socket Layer (SSL) and payment gateway for all orders placed to ensure the security of your personal card details.
Our secure web pages can be identified by their URL: that begins with 'https://', while standard pages begin with 'http://'. A padlock or key will also be visible in the bottom right of your web browser.
Can I still order online if I don't have a credit card?
Yes, you can use a debit card (VISA or MasterCard) or open a PayPal account and use this for your transaction.

How do I get a PayPal account?
Visit the PayPal website www.paypal.com.au and sign-up for an account.

OLD SCHOOL BMX Fraud Protection Security
At Old School Bmx, we have a fraud protection security procedure in place which may occur to any order placed via our website/s. Having this in place ensures peace of mind and the highest level of security protection for all our customers who shop with old school bmx A notification email will be sent to you, if your order has been selected for this fraud protection security procedure. Please follow the instructions on the email and call us to get your order processed.
Customers have up to 30 days to return an unused / unopened item(s) for a full refund, less delivery fees. After the 30 days you will be required to pay a 10% restocking fee. If more than 60 days has passed we will not accept returns.
If an item(s) has been wrongfully sent or has a manufacturing fault, Old School BMX will cover the return shipping costs and arrange a replacement or a refund.
Return shipping costs or postage refunds will not be covered if the error is made by the customer, these include but are not limited to:
You ordered the incorrect style
You ordered the incorrect brand
You ordered the incorrect quantity
You ordered the incorrect colour (Note: different computer screens & mobile devices will show different shades of colour)
You ordered the incorrect size (Note: we always say "measure twice order once).
You entered the incorrect address on your order (Note: please always triple check the address on your order, this is most important for international customers).
If you need to return an item, please contact us via the below link. http://www.oldschoolbmx.com.au/index.php?route=information/helpcenter
By signing up and placing an order on our website you have agreed to the about terms and conditions and thus agree to all of the above terms and conditions.
WARRANTY INFORMATION
All items listed are covered by a warranty.
All items sold are warranted to be free from any defects
A proof of purchase is required to make a warranty claim.
Claims can be processed by emailing info@oldschoolbmx.com.au
A warranty of an item does not cover physical damage or self-inflicted damage, misuse of an item
A warranty does not cover wear and tear of an item
Shipping with-in Australia
Orders will be shipped within 24 business hours once payment has been received (unless specified otherwise).
You will be notified via email on the progress of your order; to ensure that you will be notified of the orders status please entered the correct information.
Freight Charges
Calculating freight charges is EASY. Add all the item/s to the shopping cart and view the cart and when in the shopping cart, all you need to do is select your Country, State and post code into the shipping calculator and to view your freight charges.
Delivery Time Frames
To
Times
REGIONAL VIC
2-6 business days*
MELBOURNE METRO
1-5 business days*
ACT
2-7 business days*
REGIONAL NSW
3-6 business days*
SYDNEY METRO
2-5 business days*
QLD
2-7 business days*
SA
2-7 business days*
TAS
3-10 business days*
NT
3-10 business days*
WA
3-10 business days*

Delivery is only available from Monday to Friday, 9:00am-5:00pm

Please note: estimated delivery days do not include processing or dispatch days.

*Please be aware that these are estimated time frames and are not exact. Depending on your location and the size of the item(s) these time frames may vary.
International Customers – Shipping outside Australia
Orders will be shipping within 24 hours once payment has been received (unless specified otherwise)
Once your order has been dispatched you will be sent a tracking number, giving you the option to track your item(s) of its location (if this is available of the postage method selected)
It is of responsibility for the purchaser to pay any customs duties or taxes within their own country, you should check with your local authorities if this applies.
For all international customers, you MUST including your phone number when completing your order, we need to attach this on the consignment note for all overseas deliveries, it also helps if your local post office needs to contact you when your parcel arrives in your country and is delivered to your local postal service.
International delivery services available
Pack and Track - This service is ONLY available to select 26 countries which are listed below for orders that weigh under 2kgs. This service is traceable online. Deliver time frame is 3-10 business days. (This can vary depending on the destination).
Express post - This service is for orders 2kgs-20kgs to any country worldwide. The service offers signature on delivery and being traceable online. Deliver time frame is 2 -4 business days. (To major metropolitan areas outside these areas it can differ)
Humm helps everyday Australian's Buy Now Pay Later. Our payment plans are great value because humm customers pay no interest, ever!
Humm is fast and simple to use when you shop:
Online Simply, select humm at checkout and you will be taken through humm to confirm your payment.
In store, open the humm App and generate a barcode. Simply take this to the checkout with your purchase and they will scan or input the code.
Cancelations
You will need to submit a claim via our support center and the support team will assist you further with your enquiry.

The customer is responsible for covering the return postage/shipping carrier cost of the product being returned.

- A 10% cancellation / restocking fee will apply to all returns & refunds.
- Shipping/carrier costs are non-refundable.
- A claim needs to be placed through the support center and needs to be approved by Go Easy Australia before the order(s) are returned.
- Your relevant order information must be on the item you are returning.
- If you have placed an order that is currently on back order or pre order and wish to cancel the order a 10% termination fee will apply. You can only cancel this type of order if it has not been dispatched.
By consumer law we have the right to not give a refund or a replacement if the customer simply changes their mind about a product

Note: For hygiene reasons some products may not be returned under this policy such as helmets, clothing, safety equipment etc.
Old School BMX 20" Blue Skyway Tuff Cassette Wheels 9T by Skyway